Launch to Mark ULA's 20th Mission to the Red Planet
On July 30th Space fans from around the world can tune in to watch the live launch broadcast of United Launch Alliance (ULA) Atlas V Rocket. The rocket is currently just a few days away from its launch for NASA's Mars 2020 Mission with the Perseverance rover.
The launch will be off the coast of Florida at Cape Canaveral Air Force Station, Space Complex-41. Schedule to launch at 7:50 am EDT the live broadcast will begin at 7 am EDT.
Traveling to the red planet is something that is not uncharted routes for ULA. Having had a previous record of traveling to mars with the heritage rockets ULA has been a vital element to every other previous U.S. Led Mars Mission which date back to the early 1960's
This will the 20th trip that ULA has completed to Mars. It will be the fifth time that the mission will be completed using the Atlas V Rocket. Before the atlas Rocket the mission was completed with the Mars Reconnaissance Orbiter in 2005, the Curiosity rover in 2011, the MAVEN orbiter in 2013 and the InSight Lander in 2018.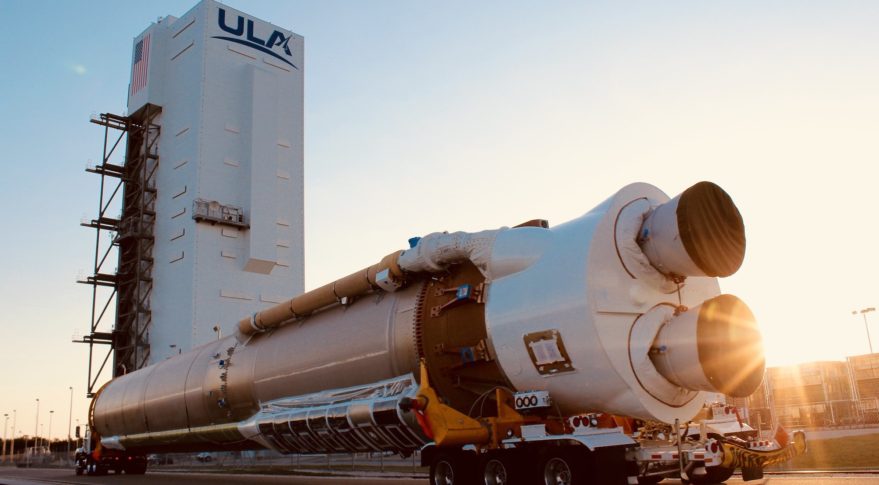 Within the Atlas V Fleet, the 541 configuration is one of the most powerful rockets in the inventory. With four solid rocket boosters, it is able to consistently provide optimum performance to deliver a level of service unmatched by others. Past Atlas V rockets have flown with various payloads ranging between three for national security and two weather based satellites. The journey leading out to Mars can take up to 10 months as you travel a 354 million-mile course to the surface of Mars.
To date ULA has launched 139 times with 100 percent mission success.
"We are proud to launch the Mars 2020 mission to orbit," said Gary Wentz, ULA vice president of Government and Commercial Programs. "The discoveries from the Mars 2020 mission will provide crucial science and research that will help inform NASA's future plans to put humans on the Moon and Mars. We look forward to continuing the Mars mission legacy with our NASA partners."
This Atlas V 541 configuration vehicle includes a 5-meter payload fairing (PLF) and stands 197 ft. tall. The Atlas booster for this mission is powered by the RD AMROSS RD-180 engine. Aerojet Rocketdyne provided the four AJ-60A SRBs and RL10C-1 engine for the Centaur upper stage.
SOURCE United Launch Alliance. Related Links http://www.ulalaunch.com
Getting ready for launch
Getting the resources in place right in time for the perfect launch window requires the aid of various individuals and team members. The video below shows a time lapse of the loading process that this satellite required to be safely stored within the belly of the C-5C Super Galaxy.
It often takes the coordination of various logistics and transportation specialist to properly ensure the safe delivery of precious cargo such as space equipment. Many times these instruments are constructed in remote locations away from the launch pad itself. The use of either commercial or military cargo aircraft play a vital role in connecting these elements together prior to a successful space flight.
Not only does the equipment need to travel safely but many times the scientist and the engineers will need to travel along with as well to ensure that the launch goes well, that it is properly secured prior to launch. As more space travel begins to develop around the world the need for specialized charter operations will become more relevant as they will be able to provide unique services to airports that lack schedule service networks.
This now creates a new demand for certain charter operators to be able to operate for special missions that were before not as in demand as they may be today.
How you can watch the launch!
The live launch broadcast begins at 7 a.m. EDT on NASA TV and at www.ulalaunch.com.
For more information on ULA, visit the ULA website at www.ulalaunch.com, or call the ULA Launch Hotline at 1-877-ULA-4321 (852-4321). Join the conversation at www.facebook.com/ulalaunch, twitter.com/ulalaunch and instagram.com/ulalaunch.
---
Subscribe to Join Air Market Group Newsletter
Processing…
Success! You're on the list.
Whoops! There was an error and we couldn't process your subscription. Please reload the page and try again.
---
Parent Companies of United Launch Alliance
The United Launch Alliance is currently one of the main contractors for NASA and has a reputable line up of rockets that have had a long history of providing aerospace hardware and systems. The United Launch Alliance is not a publicly traded company although it is owned by two companies that are.
Between Boeing (BA) and Lockheed Martin (LMT) the each share ownership of the United Launch Alliance by 50% each. Interesting that although many may think that the two companies would be in some sort of competition due to them both having aerospace division the reality of the relationship is that they work together to be develop ULA in a way that will be most beneficial to both parties.
This is a great example of how great partnerships working together towards a common goal can create incredible results. Both Boeing and Lockheed Martin took a hit in 2020 during the pandemic outbreak. Boeing (BA) is currently trading at around $170 a share and saw lows of around $80 a share.
Lockheed Martin is currently ranging between $400 and $350 now making for a large range for investors to watch over. We made it simple and easy for new investors to be able to get a better understanding of market trends and how to track progress of stock price.
Technical Analysis
Make sure to see our trade ideas below and see an actionable set up you can implement today that would be able to maximize profits from a growth in value of either Boeing (BA) or Lockheed Martin (LMT). Sign Up to see full post!
---
STOP SCROLLING!
Subscribe to get access
Access Technical Analysis and Editor's Trade Ideas when you subscribe.
SUBSCRIBE ABOVE TO ACCESS TECHNICAL ANALYSIS AND TRADE IDEAS NOW!
---
---
Disclosures
Options involve risk and are not suitable for all investors. Please read Characteristics and Risks of Standardized Options before deciding to invest in options: https://www.theocc.com/components/docs/riskstoc.pdf
Air Market Group content is provided solely by Air Market Group LLC and is for informational and educational purposes only. It is not, nor is it intended to be, trading or investment advice or a recommendation that any security, futures contract, transaction, or investment strategy is suitable for any person. Trading securities can involve high risk and the loss of any funds invested. Air Market Group, through its content, financial programming, or otherwise, does not provide investment or financial advice or make investment recommendations. Investment information provided may not be appropriate for all investors and is provided without respect to individual investor financial sophistication, financial situation, investing time horizon, or risk tolerance. Air Market Group is not in the business of transacting securities trades, nor does it direct client commodity accounts or give commodity trading advice tailored to any particular client's situation or investment objectives. Supporting documentation for any claims (including claims made on behalf of options programs), comparison, statistics, or other technical data, if applicable, will be supplied upon request. Multi-leg option strategies incur higher transaction costs as they involve multiple commission charges. Air Market Group is not a licensed financial advisor, registered investment advisor, or registered broker-dealer. Options involve risk and are not suitable for all investors. Please read the Characteristics and Risks of Standardized Options before deciding to invest in options.