Welcome Boeing's New CEO
Today on January 13th, 2020, The Boeing Company welcomes in their new CEO David L. Calhoun to the office to take on the role after Dennis Muilenburg resigned.
He has had a strong history of working in this industry from his start with working with General Electric (NYSE: GE) for the a total of 26 years. He was had direct responsibility to oversee the aircraft engine department, lighting, and more. He was ultimately appointed to vice chairman of the company and member of the board back in 2005.
From there he moved on to a privately owned information services firm known as VNU in 2006. With his dedication to the company they rebranded and returned back to the public markets and was added to the S&P 500 in 2013.
After his success with bringing the company back to the public market stepped into the role of executive chairman of Nielsen, previously known as VNU and joined the Blackstone Group as a senior managing director.
Back in 2009 David joined Boeing as a director. He moved up into the role of Lead independent director in 2018 and after the grounding of the 737 MAX it was announced that he would step into the role of CEO and president to lead the recover of the brand image by expediting the process to approve the aircraft for flight.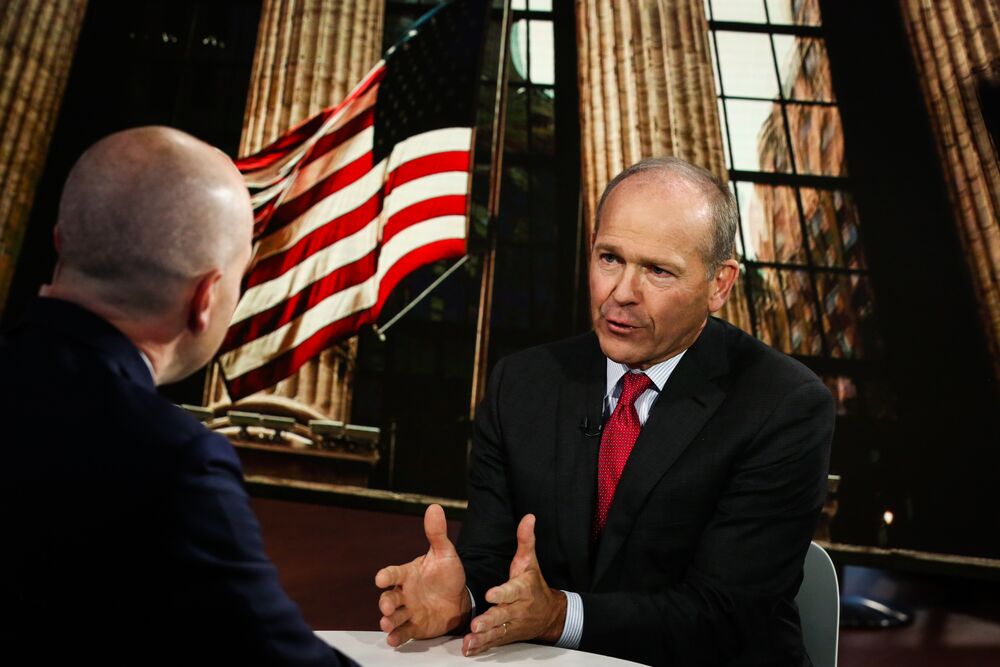 David has shown with his history with Nielsen and General Electric and others that he has been able to facilitate positive change that sticks. His goal moving forward with Boeing is going to be ensuring that the Boeing 737 MAX is properly repaired and approved by the FAA. The task at hand is going to be completing this process as safely and quickly as possible.
The Moral of the Public
The flying public needs to be kept in the loop. Although, in my personal opinion the media played a huge role in creating mass fear regarding the 737 MAX. Boeing is certainly not perfect. No company is entirely perfect. There will always be individuals who choose to go against the protocol and systems in place with no consideration for the effect it could have on others.
It is a shame that the poor decisions of few in the company are currently impacting the lives of many. With the hundred that have perished due to malfunctions with the aircraft the history of loss lives leaves a negative taste in the perception of many civilians.
In addition as the investigations have continued we have discovered dialogue from internal staff members which can be frightening to many which left the public with greater discomfort.
David is faced with a large task of not just being able to lead the re-certification of the aircraft but also he must lead the process of gaining back the trust of the public.
Many fliers have already downloaded apps that allow them to identify the model of aircraft that they will by flying on prior to them even arriving to the airport.
We have seen in the past individuals have refused to board the 737 MAX and have insisted they be transferred to a different aircraft for their safety. Once the 737 MAX recieves approval from the FAA the approval process with the general public may take longer as the decisions are based of emotions and not facts.
Impact to GDP
To purchase a brand new Boeing 737 MAX the cost can range from $99.7 million for the MAX 7 up to $134.9m for the MAX 10. Some of the primary users of the aircraft include two american based airlines Southwest (NYSE: LUV) and American Airlines (NYSE: AAL) and two foreign airlines, Air Canada and China Southern Airlines.
There has currently been over 387 aircraft that have been delivered with another 400 have that have been completed. The 400 that have been completed are yet to be able to be delivered to their homes. This as a result is negatively affecting Gross domestic Product for the United States as the aircraft are not able to be delivered out of the states.
As the slowdown towards GDP is on the horizon many of the suppliers and service companies which work in coordination with Boeing in the development and manufacturing of the aircraft have experienced financial issues.
With production at a standstill these organizations will need to look at potential layoffs of staff to still meet their bottom line. With more factories and supplies cutting back on their staff the outlook for Non-Farm Payroll may be affected in the year 2020.
Getting the 737 MAX back in the air is going to play a major role in not just the financial success for Boeing as an organization but also for the United States as a whole. David will certainly have a lot of pressure on his shoulders to rise Boeing up to a strong recovery to ensure the stability of the nations workforce and GDP.
Processing…
Success! You're on the list.
Whoops! There was an error and we couldn't process your subscription. Please reload the page and try again.
Disclosures
Options involve risk and are not suitable for all investors. Please read Characteristics and Risks of Standardized Options before deciding to invest in options: https://www.theocc.com/components/docs/riskstoc.pdf
Air Market Group content is provided solely by Air Market Group LLC and is for informational and educational purposes only. It is not, nor is it intended to be, trading or investment advice or a recommendation that any security, futures contract, transaction, or investment strategy is suitable for any person. Trading securities can involve high risk and the loss of any funds invested. Air Market Group, through its content, financial programming, or otherwise, does not provide investment or financial advice or make investment recommendations. Investment information provided may not be appropriate for all investors and is provided without respect to individual investor financial sophistication, financial situation, investing time horizon, or risk tolerance. Air Market Group is not in the business of transacting securities trades, nor does it direct client commodity accounts or give commodity trading advice tailored to any particular client's situation or investment objectives. Supporting documentation for any claims (including claims made on behalf of options programs), comparison, statistics, or other technical data, if applicable, will be supplied upon request. Multi-leg option strategies incur higher transaction costs as they involve multiple commission charges. Air Market Group is not a licensed financial advisor, registered investment advisor, or registered broker-dealer. Options involve risk and are not suitable for all investors. Please read the Characteristics and Risks of Standardized Options before deciding to invest in options.