Being a Carbon-Neutral U.S. Airline
What does it mean exactly to be a Carbon-Neutral Airline? Being a Carbon-Neutral airline means that the Carbon Footprint that is a result of the business practices and operations is negated by either purchasing carbon credits or investing in green practices resulting in a net-neutral offset of carbon emissions.
Airlines are notorious for massively contributing to the global environmental conditions. The Carbon Footprint left behind by some of the business practices of aviation are significantly larger than other industries.
Let's look at for example an international flight from Amsterdam to New York:
The total distance of the flight is estimated 11,686 km and based on the average calculations for carbon emissions this flight would be responsible for 1.77 tonnes of CO2 being released.
This is equivalent to a single individual taking over 860 showers that last 10 minutes long or washing 2524 loads of laundry. With that being said the global impact of one flight is significant and the efforts that are needed to counteract the negative repercussions is vital for the long term sustainability of aviation.
U.S. Airlines have been working hard over the past decade to make aviation more environmentally friendly and sustainable. Jetblue airlines back in 2016 has announced a commitment towards using for sustainable and renewable fuel sources.
The media has recently shined light on the industry regarding more environmentally conscious practices after teenage environmentalist Greta Thunberg has taken to the press to start "Flight Shaming" those who are choosing to fly over choosing other method of travel.
The reality is that flying is not going to stop overnight, so how do we go about making aviation better for the future? JetBlue wanted to clarify that this program that they are implementing has been in the works for quite some time now and is not a decision made as a result of the environmentalist taking to the news.
Carbon Offset Program
Tackling an issues as large as offsetting the carbon impact produced from the aviation industry is a large task to accomplish. The use and help of organizations and non-profit foundations to properly document and implement these practices aid the airlines in ensuring they their funds are being used to make a measurable impact.
Jetblue has stated they they will be earning Carbon Credits by using capitol to invest in projects included but not limited to those that help protect the natural forest from destruction, and aid in developing future solar and wind farms.
The funds being used towards offsetting the carbon footprint of their operations will be treated as a cost of doing business. "By purchasing these now, we're ostensibly locking in a hedge against rising CO2 prices," said Mendelsohn, the sustainability chief.
"We have put an incredible amount of rigor behind making sure these are real, they're legitimate, they're auditable, they're traceable," Mendelsohn said. "We selected a carbon offset partner with a long-term reputation that's survived the squalls of carbon offsetting ups and downs." –TIME
Potential Profit Growth
In terms of how this can better position and benefit JetBlue, this is going to play a key role in their growth for the next coming decade. Airlines across the globe will all be implementing new strategies to be competitive in the marketplace.
Frontier airlines has recently made strides towards being America's greenest airline by cutting back on weight in the cabin. They store less meals on board and designed seats that are lightweight and help reduce global impact.
Jetblue is taking a different approach to the issue at hand. They are maintaining their standard comfort levels that is on board every aircraft. The strategy they are deploying will attract customers who have not regularly flown with jetBlue to now consider them as an option.
In addition the guest who consistently fly jetBlue already will continue to do so as they are already loyal guest of the airline. This will help fill up their load factors on board resulting in profit margins being increased. Although the initial plan calls for more expenses at first the overall impact is positive.
When we look at the potential for jetblue stock to rise in price there are many factors that can potentially impact the stock bullishly. Going green is the hottest thing on the market right now and Jetblue has made it clear that this is their mission.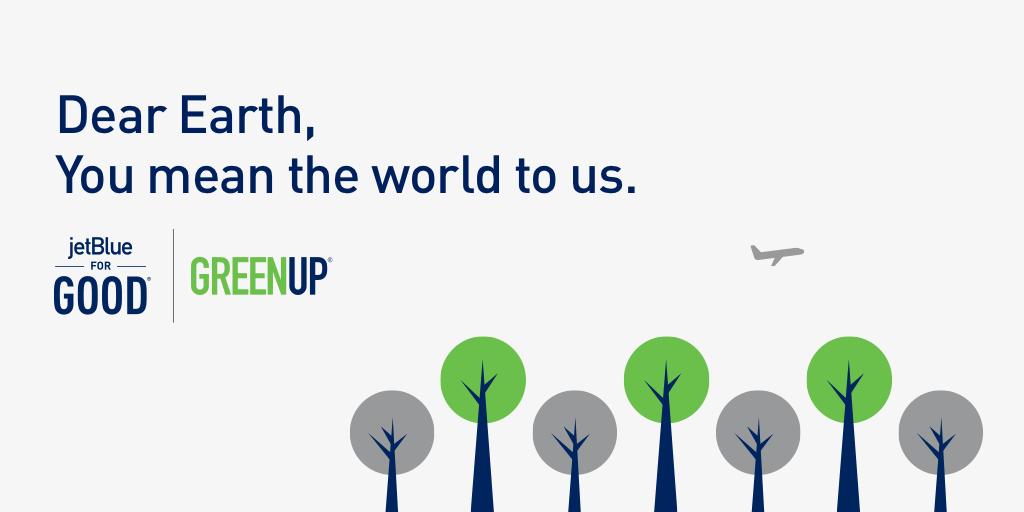 With their name in the news this will then drive more consumers to read the headlines and naturally go to see the flight deals available. This will help sell more tickets and in turn fill up more of their aircraft. They have made a statement regarding how their GREENUP movement will not rise the prices of tickets for their flights for the guest.
Investors may potentially be looking to go long for JetBlue with the aims of profits rising with load factors rising. Waiting for their next earnings report will confirm how this news release will settle in during the 1st quarter of the year.
As we look at the technical aspect of Jetblue (NYSE: JBLU) we see how the resistance level of $20 is the next target price. As we continue upwards on the sideways/upward trending price placing positions to take advantage of the upward movement can potentially provide substantial returns in the event the stock price rises.
What are your thoughts on JetBlue and their green movement? Will this be the catalyst needed to spike their stock value higher? or can we expect little reaction from the news until the financial statement reflect a successful move.
Taking the time to properly conduct your research is a key factor to not rushing into any trades. Join our Email list to get the latest updates on all the publicly traded aviation related stocks directly to your email! As always happy trading and keep the profits flying!
Processing…
Success! You're on the list.
Whoops! There was an error and we couldn't process your subscription. Please reload the page and try again.
Investing in any financial markets contain potential risks of loss of capitol and you should always consult a licensed financial adviser should you have any questions or concerns before investing. This article was written for educational purposes to share new information and is subject to error.
Disclosures
Options involve risk and are not suitable for all investors. Please read Characteristics and Risks of Standardized Options before deciding to invest in options: https://www.theocc.com/components/docs/riskstoc.pdf
Air Market Group content is provided solely by Air Market Group LLC and is for informational and educational purposes only. It is not, nor is it intended to be, trading or investment advice or a recommendation that any security, futures contract, transaction, or investment strategy is suitable for any person. Trading securities can involve high risk and the loss of any funds invested. Air Market Group, through its content, financial programming, or otherwise, does not provide investment or financial advice or make investment recommendations. Investment information provided may not be appropriate for all investors and is provided without respect to individual investor financial sophistication, financial situation, investing time horizon, or risk tolerance. Air Market Group is not in the business of transacting securities trades, nor does it direct client commodity accounts or give commodity trading advice tailored to any particular client's situation or investment objectives. Supporting documentation for any claims (including claims made on behalf of options programs), comparison, statistics, or other technical data, if applicable, will be supplied upon request. Multi-leg option strategies incur higher transaction costs as they involve multiple commission charges. Air Market Group is not a licensed financial advisor, registered investment advisor, or registered broker-dealer. Options involve risk and are not suitable for all investors. Please read the Characteristics and Risks of Standardized Options before deciding to invest in options.