United Airlines impressed many investors yesterday as it surpassed its estimates for its third quarter profits. The price of fuel dropping and fare increasing brought a perfect recipe for growth.
The outlook for next year is now higher than before as they are seeing consistent growth over time despite their fleet of Boeing 737 MAX being grounded for the last few months.
They have been talking with Boeing over receiving compensations for the economic impact of the grounding of the aircraft. Although there has not been exact details provided yet to determine the exact amount of financial impact that was caused by the grounding of the 737 MAX.
The Chicago-based airline was one of the major U.S. airlines that was greatly affected by the grounding of the Boeing (BA) 737 MAX after having to cancel over 2,000 flights through the end of the year.
None the less we have been watching united closely to see how their management is handling the situation. They have recently gone through an update in their aircraft livery and have been creating new relationship to create new routes to countries in the pacific such as China, Australia, and Japan.
As they continue to expand their route by allocating their longer range aircraft for international flights then they can focus on bringing the 737 MAX back into the equation in the year 2020. They are not planning to have the aircraft back in service anytime in the year 2019 and by the looks of it, it may not be a problem for them.
The total operating revenue rose 3.4% to a total of $11.38 billion. During the day yesterday we say price slowly climb up about 1% and then after the closing bell the stock continued to climb another 1.5%. The full and complete breakdown of the financial statements can be found on their website in the investors corner.
Frequent Flyer program
United Airlines is host to the worlds #1 frequent flyer. With a history of over 21 million miles flown and counting you can follow Tom Stuker on his Instagram as he Travels the world on United Airlines.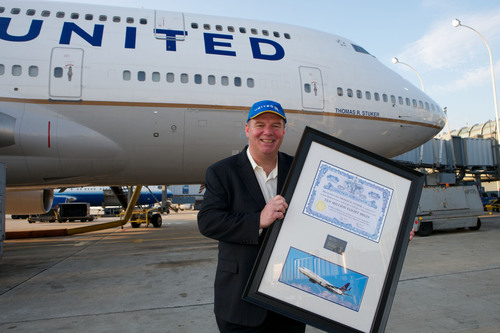 When he is on the aircraft he is treated like royalty provided with valuable merchandise and memorabilia which has greatly helped out their image in the public. The collaboration has shown the travelling public really the level of experience that United has to offer for its loyal guest.
Their ability to go above and beyond the call of duty has certainly been looked upon positively not just from those in the aviation industry but primarily just for those who travel for business and pleasure.
What gets me most excited about this in particular is that United has been known to have a poor history of accidents and slip ups. A few years back they received infamy through a catchy song written about how they broke a guitar of a local musician. This went viral on YouTube and caught the attention of millions. The recovery process was a long one yet sure enough many younger flyers today have never even heard the song
Technical Anylsis
United airlines is a technical traders dream. The clean support and resistance levels and gradual moves from price levels creates a clear picture of technical trading.
Fundamental trading involves using the financial statements, cash flow reports and balance sheets in combination with market conditions and management to be able to determine the overall projections for the company. Most fundamental traders are looking for holding positions for long periods of time as the valuation for the stocks rises.
When we trade technically we need to get a better idea of how the stock behaves in terms of price and time. Some key things to look at and understand is what is the current high and low for the stock. This can be found by looking at the 52-week range.
Once we determine the overall range we need to establish what the current trend is on different time frames. It is common for technical trader to begin on a larger time frame such as the weekly or daily and then progressively close in towards the hour or even 5 min chart.
Technical trader are not particularly firm on a single trading direction. They understand that price moves both up down and sometimes it just trades sideways with little movement.
Technical traders take this all into consideration and are looking for the next plan of action. They are not only looking for the best move but they have specific parameters which they are trading within. Currently when we look at United we have two main factors that are supporting our movement.
---
Processing…
Success! You're on the list.
Whoops! There was an error and we couldn't process your subscription. Please reload the page and try again.
---
We have strong fundamentals after earnings which would push price higher. In addition we have just finished bouncing up off a support zone and are nearing towards the current resistance level of previous zones. The next price target that we are looking at is the $90 mark.
We have seen some strong movement pushing up towards potentially breaking above the $90 price level and creating a new support level. I personally took a small position on a call spread to be able to gain on the rise of the stock value and price. Should price see some weakness and slowing momentum around the $90 price then we could define it as a potential consolidation area.
When trading actively its important to ensure you have a system for controlling your risk. Active trading specifically options involve the potential risk of being completely out of your initial investment. It would be wise to not risk more than you are willing to loose on a single trade. This will help keep losses small and ensure that you stay trading longer.
As we finish off the year and families begin to travel for the holidays once can look to see high load factors from a majority of the airlines.
Having the high load factors will set the tone for what is to come in the following year and is certainly a predominant factor to take into consideration when investing in any airline stock.
Over the next two days we have some more big names in the industry releasing some earnings that we are going to be looking into and potentially making some options trades on.
The next two in companies that are lined up and ready to release their earnings for the 3rd quarter are Honeywell and Textron for this week. Both companies are planning to release earnings reports on the 17th of OCT.
This is the best time to be able to take the time to look into the company and determine a plan on how to proceed. When the news reports come out it is often too late to enter in the best trade as price often spikes and is extremely volatile. In the same note it can be very risky to enter in a trade prior to earnings that does not have a back up plan.
If you are entering a call position in anticipation of having strong earnings the addition of selling a call or purchasing a put can provide insurance on your trade.
Yes this will require a little more initial capitol to be invested. But the idea is that you are purchasing an insurance policy in the event your analysis does not support the current movement of the stock.
Should the stock go your way, great celebrate and secure your profits. The insurance will expire worthless or you can potentially sell it back for a loss. Your profits from the winning trade will offset the losses on the insurance option to bring a net profit.
In the even the stock goes against your analysis then the insurance can be used to ensure that the you still make a profit on the trade.
Learning to create win-win situations is key for developing the skill of becoming a trader. Many investors enter biased positions that result in either a great win or a terrible loss.
For more info on how you can learn trade ideas and strategies that result in Win-Win situations make sure to check out our advanced trading services. As always I wish you good luck and happy trading!